Identification of Global Natural Disaster Risk Hotspots - Sri Lanka Case Study
The Hotspots project is an effort to deepen understanding of the risks posed by multiple natural hazards and the potential for mitigation and response approaches that take into account the interactions among different hazards and hazard vulnerabilities. The first component of the analysis is a first-order global natural disaster risk assessment. Risks of human and economic losses will be estimated through spatial analysis by assessing the exposure of a global set of element at risk û people, infrastructure and economic activities û to all major natural hazards û droughts, floods, storms, earthquakes, volcanoes and landslides. The analysis will be based on the actual geographic distributions of these phenomena rather than on national-level statistics. Risks of losses among the elements at risk posed by each hazard individually will be aggregated across varying time scales to arrive at the aggregate, multi-hazard risk.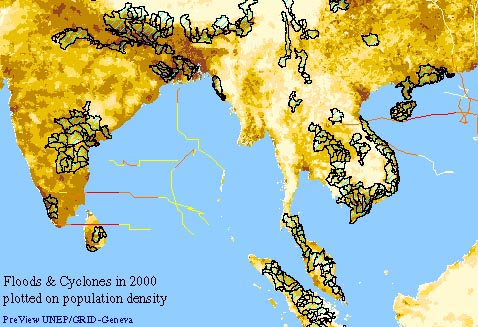 The Sri Lanka case study builds on and complements the global study and mapping process. It shall explore issues of comparisons of local and global scale, usability of local and global information at the appropriate scale and orientation of study outputs for local action. The case study will also explore the seasonality of disasters from a climatic perspective.
Drought is the most significant natural hazard for Sri Lanka. In addition, there is flood, landslide and cyclone risk. The risk of volcano activity and earthquakes are negligible. The majority of hazards in Sri Lanka arise out of hydro-climatic variability. However, the role of hydro-climate has not been adequately reflected in previous work on this arena.
At the completion of the project, a set of seasonal disaster risk maps for Sri Lanka will be made available to the public through the website and publications. The maps will cover flood, drought, cyclone and landslide hazards with vulnerabilities. At the second phase of the project, the project team intends to cover areas of capacity building, developing predictions and investigate effects of climate variability and change on disasters.
Project Partners
Center for Hazards & Risk Research at Columbia University
The Disaster Management Facility of the World Bank
Project Coordinator
Dr Lareef Zubair
Email: