Sri Lanka Projects -> River Basin, Mahaweli
Seasonal Climate Prediction for Mahaweli Water Management
More about this project
- Project Description
- Climate Issues
- Water Resources
- Hydrology
- Modelling and Downscaling
The 207 mile long Mahaweli river traverses from the so-called "Wet Zone" of Sri Lanka to the "Dry Zone" - a process which has been augmented with dams, canals and tunnels starting over 2000 years ago. The dotted line demarcates the so-called Wet Zone where water is plentiful with the Dry Zone. Of the annual precipitation in the basin of 28,000 MCM, 9,000 MCM is discharged to the sea.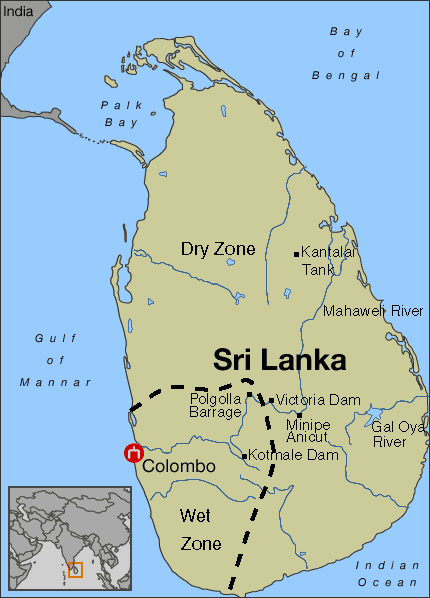 The Accelerated Mahaweli project, which was carried out in the last two decades, was the largest development project in Sri Lanka involving the generation of hydroelectricity, irrigation of the "Dry Zone", land settlement, employment generation and infrastructure development. This project led to hydropower generation capacity of 470 MW and irrigation of an additional 365,000 ha of land in the Dry Zone. Its catchment spans 10,448 square km and it feeds 1003 tanks. Subsequent to construction, attention has shifted to watershed management, water management, crop diversification, participatory management and enterprise development. There have been concerted efforts to manage the watershed in the upper reaches of the Mahaweli.
The Mahaweli Authority also manages the Walawe basin whose headstream and downstream climatology and geography are similar to that of the Mahaweli. The Walawe basin is a simpler basin and serve as a pilot basin for research.
The current project seeks to develop tools for the use of climate information for river basin system management, to generate indices for droughts, floods and hazards and to study various environmental impacts (floods, droughts, malaria) and societal impacts (equity, communication of forecasts) of climate. The project has been funded by the IRI and the Mahaweli Authority.
Project Coordinator
Dr Lareef Zubair
Email:

Last modified: 07/19/2004 20:25:13